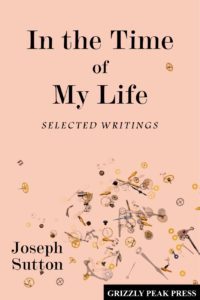 In the Time of My Life: Selected Writings is a collection of Joseph Sutton's best writing over a period of fifty years. This compilation of stories and chapters is extracted from Sutton's eight books, including selected chapters from his three novels. Morning Pages: The Almost True Story of My Life is about a writer finding a way to break out of a writer's block. A Class of Leaders shows how a teacher empowers his inner-city students by giving them a chance to teach. And Highway Sailor: A Rollicking American Journey has to do with a man hitting the highways in his VW bus in search of himself and America.
Of the three story collections, The Immortal Mouth and Other Stories is derived from the first half of Sutton's fifty-year writing career. The Bar of Soap and Other Stories comes from the second half of his writing career. The Life and Death of Abraham Massry and Other Stories deals with Sutton's Syrian Jewish roots.
There's also a memoir, Father and Son: Thirty Years of Growing Up Together, with passages about Sutton's thirty-year relationship with his son Raymond. And lastly, snippets are taken from San Francisco Giants: A Fan's Journal 2010, 2012, 2014 that chronicle the Giants winning three World Series championships in five years.
Put all these stories and chapters together and what you have, after fifty years of writing, is a mother lode of revelations, insights, and wisdom from the pen of Joseph Sutton.
Excerpt from the novel Highway Sailor
Chapter 38 – Westward Ho!
My first day out of Chicago, I drove through the rolling green hills of southern Wisconsin. The second day, I hit the flat plains of southern Minnesota where the horizon was a continuous 360 degrees. It was like driving on top of a flat circle. I didn't see a single mountain or hill all day long. What I did see, though, was a sign on Interstate 90, beginning in Blue Earth, Minnesota: ONLY 499 MILES TO WALL DRUGS. Every single mile after that there was a sign telling me how much closer I was getting to Wall Drugs in Wall, South Dakota. It was impossible not to see those signs in that flat pancake land I was driving through. Impossible! I decided to stay the night in Sioux Falls, South Dakota, which, by the way, was 294 miles from Wall Drugs.
The first thing I did was go into a bar in the neon part of town. I sat on a stool next to an old Native American man and ordered a beer. He seemed drunk. He was weaving back and forth in his seat. Both of us were minding our own business when a white man walked in and sat on a stool next to a chubby Native American woman at the other end of the bar.
"Hi, honey," he said to her in a voice everyone in the bar could hear. "My name's Brad."
She smiled at him and brought her drink to her lips.
Brad threw some change on the counter. "Get me some Marlboros," he ordered her.
She took the change and went to the cigarette machine and brought him back a pack of Marlboros.
The old man sitting next to me, still weaving back and forth in his seat, started chanting in his native language. Every word was an Indian word except for one, and that one word was "dog." I thought he meant it for the woman who, like a "dog," fetched the cigarettes and cozied up to American Brad. On the other hand, "dog" could have symbolized his contempt for American Brad's arrogance toward the woman. As things turned out, she and Brad walked out of the bar ten minutes later.
The next day I sailed through the flat, grassy ocean of South Dakota. Those damn Wall Drug signs were still staring me in the face.
ONLY 92 MILES TO WALL DRUGS
"These signs are driving me crazy!" I shouted as loud as I could to myself.
ONLY 91 MILES TO WALL DRUGS
"If only there were some hills or something to take my mind off these signs!"
ONLY 90 MILES TO WALL DRUGS
"They're invading the privacy of my mind!"
ONLY 89 MILES TO WALL DRUGS
"They're ruining the landscape with these goddamn signs!"
ONLY 88 MILES TO WALL DRUGS
"They don't have a right to do this!"
ONLY 87 MILES TO WALL DRUGS
"Is this what you have to do to succeed in this country—pound, pound, pound it into people's brains?"
ONLY 86 MILES TO WALL DRUGS
"It's like those missionaries knocking on your door, trying to force their religious beliefs down your throat!"
ONLY 85 MILES TO WALL DRUGS
I had had enough. I stopped along I-90, left my bus's engine running, grabbed a hammer out of my tool box, walked up to the 4? x 4? 85-mile sign, and started knocking it off its post with all my might. As I was doing this, speeding cars honked with people waving, thanking me for the great deed I was doing.
I stood proudly over the ruins of the 85-mile Wall Drug sign.
I had done my duty for my country.