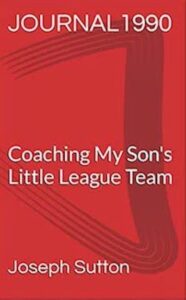 Description
Journal 1990, like all of San Francisco writer Joseph Sutton's yearly journals, is not only a short history of one year in his life and the country's life, but it also reads like fiction in the sense of "What's going to happen next?" A major portion of Journal 1990 deals with Little League baseball. What's going to happen with Sutton's relationship with his 9-year-old son as he plays Little League baseball for the first time? How will Sutton's team fare in his first attempt at coaching?
There are other parts of Journal 1990 that deal with the first war with Iraq, getting a book published for the first time, plus the highs and lows of being a writer.
Monday, January 1, 1990 – Democracy is Taking Hold
It's the beginning of a new decade. There were so many articles and TV shows that had their "Best of the 1980s" or "Top Ten of the '80s." That's all we heard about in the last two weeks of December.
The big story of 1989, or maybe of any year since World War II, was the peaceful revolution that took place in Eastern Europe, where countries like Hungary, Ukraine, Czechoslovakia, Bulgaria, and East Germany removed their dictatorial, one-party systems and are now striving to become democracies. All of this has taken place in the last couple of months. The world is becoming democratized. People in those countries can now have an outlet to express themselves.
China's dictatorial government was on the verge of change this past spring but their revolution failed because the hardline leaders were more intent on their own power instead of change, and because of that, many Chinese were killed in the streets. South America, in the last decade, has become more democratic, as has the Philippines. There's still a way to go, but it seems that democracy in Eastern Europe has gotten over the hump and is now on its way. Russia is also on its way to becoming a democratic country. Mikhail Gorbachev is the main man for all this change in Eastern Europe and Russia. In my mind, he's the man of the second half of the 20th century.
Monday, January 8, 1990 – My Family
My son Ray, 8, is having confidence and sleeping problems. His third grade teacher says he doesn't have confidence in his abilities. At night, around 11 or 12, he cries, gets up, checks to see if Joan and I are in bed, then goes back to bed again. This has been going on for a year and a half. It's so frustrating to see him suffer like this. I tried to help him with his confidence this past Holiday season by showing him how to throw and catch the football. He seemed pretty good at it, too. Oh, how I feel for him when he cries out at night. I hope it's not some mental thing, but it probably is. It's depression of some sort.
My wife Joan is as busy as a hummingbird with her storytelling. I love her very much.
Sol, my 19-year-old stepson, has been very low-key this past month. He'll be leaving for Bowdoin College in Maine in five days. He's lazy, but not as much as he used to be. He's more thoughtful of others. He does very little physical activity and seems unhealthy. But if one told him how to get healthier, he'd pretend to take it in and not listen at all.
I seem to be getting the hang of this computer I recently bought. It's my first one.
I'm still working on my health quotation book that publishing company Hay House accepted late last year.
Tuesday, January 16, 1990 – My Old Football Coach
My cousin Vic flew up from Los Angeles this past weekend. Sunday we went to the National Football Conference Championship game between the L.A. Rams and the San Francisco 49ers. The Niners demolished the Rams 30-3 and will now go on to play the Denver Broncos in the Super Bowl. It was my first and probably last pro football game I'll attend. I don't like pro football crowds—a lot of the fans get drunk and become rowdy. After the game, Vic and I went down to stand outside the Rams' locker room. Vic wanted to thank Greg Bell, running back for the Rams, for the tickets Bell left for him. In the meantime we saw Dick Butkus (huge), Mike Ditka (wide and gimpy), Dwight Clark (slender), R.C. "Alley Oop" Owens, Jerry Rice, Tom Rathman, Harris Barton, Jim Everett, Flipper Anderson (we sat next to his very young-looking mother), and lastly John Robinson, head coach of the Rams.
Because John was surrounded by the press, it took a while for me to walk up to him. I knew John from playing football at the University of Oregon in 1960 and '61. He was an assistant coach at the time. He eventually went on to become a successful head coach at USC before the Rams hired him. I had a roommate, Tom Cash, who attended a class that John taught at Oregon. According to my roommate, John praised my football ability. He told the class that I was a very talented running back but that I didn't get much playing time because I fumbled the ball too much in practice.
After the press left, I approached John. Vic said his face lit up when I introduced myself to him. In our conversation, all John wanted to know was what I was doing. He told me to send him a copy of my health quotation book when it comes out. The highlight of my day was not the 49ers win, but seeing John Robinson after thirty years.
Wednesday, January 17, 1990 – Gale Kaplan and the Hide-A-Way-Cafe
The Hide-A-Way-Cafe. That's where I am right now—with my writing friend Gale Kaplan. What a great name—Hide-A-Way-Cafe. A real American breakfast place: grilled potatoes, eggs, coffee, ham, bacon. I used to eat those foods but not anymore.
The Hide-A-Way is right on the border of Berkeley and Oakland on Telegraph Avenue. A bunch of minority people work here: Chinese, Mexican, Indian, Greek. The waitress, a strong and beautiful person of Chinese origin, has been waiting on Gale and me. All we're having is coffee and tea, respectively. It seems that most of the people in here are students at UC Berkeley.
The Chinese owner just stepped outside, both hands deep down in the front pockets of his white pants. "Why isn't there more business?" he's probably asking himself. "How am I going to pay the dishwasher, cook, and the two waitresses?"
Who is Gale Kaplan? She's a good friend of mine who I met at the San Francisco Writers Workshop several years ago. She lives alone in a small apartment in Oakland, plays the piano, and has short grey-black hair. She wears jeans and loafer shoes. She's thin, intelligent, and I love her writing. She writes short, gut-level essays that most writers don't even think of writing, such as picking your nose, peeing in your pants, and farting. She's a one of a kind writer.
Here's one of her essays she handed me before we came to the Hide-A-Way-Cafe:
Confessions of A Bitch
We adults argue in strange ways. I know I do. I'm in the messy midst of an argument with my neighbors, two twentyish musically-addicted brothers who like their rap loud. Since we've quit speaking to one another but still feel the need to argue, we argue phonographically. With our stereos. And it's a good thing because that's what the argument is about. Noise. Well, they call it music. But to me it's noise, the incessant hammering of the thundering bass drums trailing me about my formerly peaceful life-space.
We spent a couple of months trying to work things out, which means "discussing" the problem in a normal tone of voice. (A term coined by my family to describe just such highly controlled but hot-under-the-collar conversations.). Then some indignities were said. Well, screamed is more accurate. And by me, an otherwise quiet soul who has heard one rap too many in her brief 45 year life. I'm talking screaming with all the accoutrements that accompany a ranting, raving tirade. Swearing. Foot stomping. Door slamming. Slammings, actually. I was so angry, I flung open the door I had just slammed just so I could slam it again.
But things didn't improve. So I turned to my stereo as my electric voice. I put earplugs in my ears, turned my substantial speakers around so they faced and touched our shared wall, boosted the bass as high as it would go and then I blasted the fucking thing. I'm talking 10 on the Richter scale. And for some strange and perverse reason, it felt terrific. The perfect touch, biblically speaking. An eye for an eye. An ear for an ear. And I exited, leaving my neighbors to drown in Blood, Sweat, and Tears.
Saturday, February 10, 1990 – Book Contract
It was Raymond's 9th birthday on February 7. He's having a birthday party today at the ice-rink on 48th Avenue and Kirkham.
The 49ers, led by Joe Montana, Jerry Rice, Tom Rathman, and Roger Craig, won the Super Bowl in late January against the Denver Broncos, 55-10. A slaughter.
I received the contract from Hay House last month. I asked for two changes. They agreed to complimentary copies to the author: 25 instead of 12. The other was my request for a higher advance, which they turned down.
Thursday, February 15, 1990 – Little League Manager
I'm going to be the manager of my son's Little League baseball team this spring. I've never coached a team before. It'll be a quite an experience dealing with kids 8 to 11 years old.
This coming Saturday, after watching a whole slew of kids hitting and fielding, I'll be drafting players for my team, the Mets. Whoever I choose will be all right with me. Give me any kid and I'll make a player out of him.
Wednesday, February 21, 1990 – Hawaii
Hawaii. We're staying at Rena Blumberg and her 4-year-old daughter Melodica's house. Their house is about a mile up the hill from the beach.
We arrived Monday and rented a car. As soon as we got to Rena's house, the three of us changed into our bathing suits and drove down to the beach. It was a cold and windy day. No matter, Ray and I were determined to get into the blue Pacific. When we got back to Rena's, she had a natural food feast of brown rice and tasty vegetables waiting for us.
Saturday, February 24, 1990 – Trip to Hawaii
Every type of day has happened in Hawaii: wind, sun, rain, and vog (volcano gas). It's rained most of today. We still went to the beach for 45 minutes. Didn't touch the water, though.
We've been resting and going to the beach and eating good, natural food. I've been reading books on how to coach a Little League team.
I asked Ray to write about our trip. Here's what he wrote:
Trip to Hawaii by Ray Sutton
I went to maui last Mondy.
I took a plain and took six houwers to get there. When I got there the first thing I did was we went to the beach and thats what we did practicly every day. the third day I made friends and there names were Chiro and Ari and they lived straight down from where I stayed. where we were staying lived a girl who was about four and her name was malodica and her mom was named rena. When we got there malodica said GET OUT OF MY HOUSE! but we didn't so she just walked out of the room.
Thursday, March 1, 1990 – The Sky's the Limit
I'm nervous about coaching, which is good, because when one is nervous one is more aware instead of being lackadaisical. Will I have patience with the boys? Do I know enough about baseball to teach them.
My son's day is much different than my day. When I was nine we had young coaches and practiced maybe once or twice and then played games. Today the coaches are much older, more knowledgeable, and we hold more practices. When I was growing up we never had a speech given to us by a coach. But today I'm going to give a little speech at our first practice covering three important items: Learning baseball, having fun practicing and playing, and teamwork. If we play and stick together, the sky's the limit.
Sunday, March 18, 1990 – Baseball Practice
My Little League team, the Mets, consisting of 13 boys, is coming along real well. It's my back that's not doing well after hitting grounders to the infield and pitching batting practice. My knee and groin hurt a little, too.
We're practicing twice a week. I'm chomping at the bit to see how we'll do against the other teams. There's so much to do in a baseball practice. You have to keep 9-, 10-, and 11-year-olds busy by splitting them up into groups: outfield, infield, batting, pitching. I tell them that the mental part of baseball is 50% of the game, that it's so much fun to outwit an opponent.
Tuesday, March 20, 1990 – Our Downstairs Neighbors and Gorbachev
It's a clear, clean, beautiful day today. I'm laying low because of my back.
Oh no, 14-year-old Michelle just got home. Teenagers, all they can think of is music and sex. I don't hear the music yet. Any minute, though. Yes, there it goes. It took less than a minute for her to turn it on. We've gone downstairs in this duplex to knock on Michelle and her mother's door a few times in the last few weeks. Other times I've had to bang my foot on the floor. I can hear the sound of the stereo right now, but miracle of miracles, it's not blasting away. It's just a normal sound now. Maybe Michelle is learning. God, I hope so, or else my foot would be stomping on the floor this very minute.
A lot of times our downstairs neighbors refuse to think that there are people who live above them who don't care for their loud music. If neighbors can't get along by thinking of one another, how are countries going to get along in this new age of Gorbachevism?
Mikhail Gorbachev has turned the world upside down. He has allowed the USSR to break up. Since the end of World War II, the US and USSR have been posturing, competing, trying to get the upper hand over the other, building more powerful weapons, forming alliances, and finally last year Gorbachev said, "No more trying to outdo the US. We can't afford it. It's not good for Russia. I'm allowing the former republics of the USSR to become independent states. Russia, right now, is my main concern."
Thursday, March 22, 1990 – Dissension
There was dissension on our team today. Jon Bronfman and Jason Moore were the culprits. I immediately let them know that they were not going to ruin the team with their negative behavior if they didn't get their way.
Wednesday, April 4, 1990 – Our First Game
We lost our first game of the season yesterday 8-4. Our team, the Mets, didn't get one hit. The boys seemed afraid of the other team's pitchers. I think it's too early for ages 8-11 to play hardball, but then, here I am coaching them. My son made a great play in the first inning. He dove for a pop fly, caught it, and doubled the man off at first. Ray scored the first run of the game for us by walking, stealing second, and going to third on the poor throw to second, and walking home after our next three batters were walked.
We didn't hit the ball, the other team did. I don't have a pitcher who can burn it in there.
Anyway, the score was 8-1 going into the last inning. The other team's pitchers walked a whole bunch of our batters and we scored three runs off of walks. It was two outs, bases loaded, the score 8-4, when Ray came to bat. The count on him was 6 balls and 2 strikes (7 balls in a minor league Little League game when bases are loaded). Ray was the 9th batter for us and it's a Little League rule that only nine batters can come to the plate in one inning. Ray thought he should try for a home run since he was the last batter. His thinking was, "I better swing at anything since I'm the last batter." He swung and missed and that was the end of the game. At least my son was using his brain.
I couldn't sleep the whole night because I was trying to figure out what to do with the team. Are they going to ever hit the ball? Are they going to ready themselves in the field before every pitch? What am I going to do with those who horse around or aren't aware in the outfield? How can I teach them to field ground balls without being afraid, or catch fly balls without stumbling over themselves?
Saturday, April 7, 1990 – Our First Win and My Aunt Sarah
We won! We beat the Cardinals 13-7. We hit, we ran, we fielded most of the time and we pitched. It was music to my ears.
My son Ray had to stay home because of chickenpox. Poor fellow, he would have enjoyed our victory.
It'll be interesting to see how we do against the Royals come Tuesday. Our team was the team I imagined today. They readied themselves before every pitch. The infield bunched around the pitcher when he struck out an opposing player. It was just a good feeling to see the team gel into a unit. Even Jonathan Bronfman hustled today and didn't pout, as he usually does.
My cousin Vic called yesterday. He told me how he felt about my not calling him or his mother, my Aunt Sarah. He was right. I thought about calling her many times but never got around to it. Tomorrow she's going to have an operation where they're going to amputate both her legs below the knee because of gangrene or poor blood circulation.
Friday, April 13, 1990 -Losing Is Part of Life
We lost two games this week. One to the Royals 14-7, and last night to the Anchors 15-10. A couple of our guys are beginning to blossom. Noah Jackson and Patrick Alioto are the only consistent hitters on the team. The boys who haven't gotten a hit after four games are Winston Chu, Jay Noble, George Dicker, and Conrad Wall. My son Ray hasn't played in the last three games because of chickenpox.
It's frustrating to lose. But that's part of life. I hope the boys don't sense my frustration. I have to watch my temper and cool it and not get so emotional.
Our record now is 1 win and 3 losses. I wish I could teach the boys how to hit and field better. I guess all I can do is hold as many practices as possible.
Wednesday, April 18, 1990 – Earthquakes
It's been a crazy day. There were three earthquakes in the Bay Area this morning, all within 15 minutes and in the 4.5 to 5.4 magnitude on the Richter Scale. Scary. Thank goodness there were no reports of damage. Last year in the Loma Prieta earthquake we experienced a magnitude 6.9 that killed 67 people and caused billions of dollars in damages.
Monday, April 23, 1990 – A Win and a Couple of Attitude Problems
We won a big game Saturday 3-1. The other team got twice the hits that we did, but they made twice the number of errors. That's our strength right now—defense. Ray got his first hit in Little League play, a single over the second baseman's head. Every game is an adventure. I so much look forward to each game to see if the boys are improving.
I have a couple of attitude problems: Jonathan Bronfman and Jason Moore. I called their parents about their negative behavior.
April 26, 1990 – My Son Is Self-Destructing
Ray is having a problem. His emotional state is very low. It's been on the brink of bursting out of him, and this week was the week. Last night it showed so glowingly, so agonizingly. I saw my son strike out three times and with each strike out he broke down and cried. He cried about everything. A kid on the other team, who slid into second base, said to Ray, "You suck." Ray cried. He argued with me for my telling our infield, "Speak up out there." He took it personally. He was so sensitive. He was a disgrace. It was killing me as much as it was killing him, except I couldn't show my feelings because I love my son more than anything in the world.
I thought that my coaching the Mets would help with his self-esteem. Last night was the most self-destructive I've ever seen him. He took his strikeouts so much to heart. He wanted to succeed so badly that when he didn't he was like a balloon that popped.
I don't know exactly when this self-flagellation began. It might have started two years ago when his loving first grade teacher wasn't his teacher anymore, or when Sol, my stepson, left for college, or when Joan went to Europe for three weeks on her mother's dime. He began waking up in the middle of the night back then. He's still doing it. Sometimes he gets up and doesn't even know it. What has caused this problem? There's something under the surface that's out to destroy him. It's beyond me what it could be.
It seems the only things he really likes doing is watching TV and playing with his little battery-operated computer games. He never wants to go outside by himself, although I suggest he ride his bike or throw the tennis ball against the outside stairs. Is it my fault for the way he is? Is it my fault for disliking his habit of watching TV every minute on the weekends? Has he given up on life? That's what disturbs me. If he strikes out, so to speak, he gives up too easily. It's so disheartening for a father to see this happening to his son. I want to say to him, "Don't give up on yourself, Ray. You really can do it if you don't give up."
But he gives up. All the time now. His third grade teacher, Sue Tischler, says he does it in school all the time. It's really come to a head. That's why Joan and I have decided to get him a psychiatrist.
Saturday, April 28, 1990 – My Son Was A Champion Today
That kid of mine came through today better than anyone could have imagined. He got two hits and played flawless defense at second base. He was a champion today. I was a very proud father. The Mets beat the Spartans 13-10. We got 18 hits, the most in one game this season. The whole team was the MVP. Noah Jackson hit a long, towering home run—a tremendous feat for an 8 year old. Winston Chu is starting to hit the ball. God, if we can only keep this rhythm going. Jay Noble got his first hit today. The boys are starting to come alive.
But each game is unique unto itself. Any team can win any day in a Little League game.
Thursday, May 3, 1990 – I'm Impatient
We lost yesterday to the Cardinals, a team we beat earlier in the season. We beat them the first time 3-1, and then yesterday they beat us 18-5. God, this Little League business is surely a roller coaster ride. Here we win a great game this past Saturday against the Spartans, getting 18 hits, and then we lose the next game by getting only four hits. We were missing two of our biggest guns due to illness—Patrick Alioto and Noah Jackson. Thank goodness they'll be back this coming Saturday.
Ray struck out last night, but he didn't feel sorry for himself. He took it in stride, which was a good sign.
My boy is becoming very forgetful lately, especially when it comes to his homework. He still wakes up in the middle of the night. As a father, I feel for everything the kid does or doesn't do. For instance, it's so hard for him to get out of bed in the morning. I feel sorrowful that he has no get-up-and-go at the age of nine. When he gets up in the middle of the night and comes into our room, actually sleep-walking, I feel so helpless and frustrated. When I see he would rather watch TV than do anything else, I want to say, "Why don't you get outside, son, and enjoy life?"
Lately, there are so many times I see him in a depressed mood. Every practice, every game, he complains of an injury. Last night he got hit by a pitch in the hip. It hurt, but he stuck it out and played on without complaint. Before the game he was complaining about his finger, as he's been doing for the last two or three weeks. I feel for the kid. I want him to have the highest regard of himself. How can I help him? Should I coddle him? Should I treat him like I'd treat any other 9 year old? I want to praise him, but I can only do so when I see he's deserving of it.
Is it my fault that he is the way he is? I don't want to think so, but I have a feeling I'm to blame for this sensitive boy's depression. In other words, it's my fault more than anyone or anything else.
What I'm finding out about myself is that I have a very low threshold of patience. I am not going to quit coaching, I'm just going to have to be more patient, more understanding, and more tolerant of my son and his teammates.
Monday, May 7, 1990 – Doctor's Orders
We lost our game Saturday. Our record is now 3 wins and 6 losses. I'm finding out that we have only three hitters on the team: Noah Jackson, Patrick Alioto, and Eric Strand. The rest of the team, my son included, are lucky if they can get a hit. I'm also finding out that no one but Jay Noble can catch a ball in the outfield. In Saturday's game we were ahead 5-1 going into the fifth inning, and then the Cardinals scored 7 runs. In the sixth inning they scored 4 runs. Final score 12-5.
Ray cried again. When he doesn't get sleep he's impossible. He surely didn't get any after coming home from an Oakland A's game at midnight the night before the Cardinals game.
Joan and I went to see Ray's psychiatrist, Dr. Gary Gelber. He says Ray is having problems in school with his self-esteem and still has sleeping problems. Joan and I agreed to (1) get rid of the TV for two months, (2) get Raymond in bed by 8:30, (3) stay with him if he's having trouble sleeping, and (4) for me to empathize with him rather than criticize him.
Thursday, May 10, 1990 – I'm the Major Cause
After visiting Ray's psychiatrist today, I'm finding out that I'm the major cause of our son's problems. "You expect too much of your son," said Dr. Gelber.
Friday, May 11, 1990 – I Empathized with My Son
I kept my mouth shut throughout the game. We lost 8-7. I didn't take it so hard, but Raymond did. It's the third game he's cried after the game. I empathized with him this time.
We had a chance to tie the game in the sixth inning. Alex Podell walked, got to second on a called steal, but then for some reason he tried to steal third on his own and was called out. He wasn't thinking, the same as he does in the outfield. I'm always having to tell him to get ready before every pitch. Then Eric Strand hit a double which would have scored Alex. It was two outs and Ray came to bat. He hit the first pitch, a liner that the shortstop caught. End of game. Ray cried because he thought he should have gotten a hit. He tried his best and that's all anyone can do, and I let him know that.
Sunday, May 13, 1990 – The House Came Tumbling Down
Yesterday was another roller coaster ride with the Mets. For five innings we played flawless ball. Even Alex Podell caught his first fly ball of the season in the outfield. Ben Ogden made two great defensive plays at third base. We were ahead 6-1 going into the bottom of the last inning and the Hornets were up. The Hornets' record was 6 wins and 2 losses, ours was 3 and 7. An upset was in the making. And then the house came tumbling down. The Hornets got eight hits and six runs and we lost a very hard fought game 7-6. A great comeback for the Hornets, a heartbreaker for the Mets.
Tuesday, May 15, 1990 – Despair
We played a team yesterday whose won-loss record was worse than ours. They scored 10 runs in the first two innings. We couldn't get a hit until the fourth inning. They beat us 11-8. We almost pulled out a miraculous comeback. That's what I like about the Mets—they don't give up.
Patrick Alioto hit two home runs over the left fielder's head. He was mad at himself for making two errors at shortstop, though. Noah Jackson hit a long ball double. Eric Strand, my only other consistent hitter, got a double.
Ray complained again. It's so hard for me to have empathy for a complainer. So hard. He wasn't as bad yesterday as he usually is. Oh God, I hope he grows up to be a happy boy. It pains me to see him so overly emotional. And then at night, for the last three nights at around 3:30 a.m., he's woken us up because his eyes are itching. What is going on with our son?
Is he sick, depressed, or what? Never in my life have I been so frustrated. It's been going on for two years where he gets up in the middle of the night. I don't remember the last time I had eight hours of continuous sleep. I'm at my wits' end. I'm tired and sleepy during the day. Also depressed. I have a despairing attitude. My whole world is crumbling around me.
Who would have thought my son, my pride and joy, is a continuous nightmare. Am I crazy? Is my son crazy? God, what negative thoughts. If only he'd sleep. If only he wouldn't be so despairing. I could improve on not being so despairing myself.
Friday, May 18, 1990 – This is the Best Day of My Life, Dad
Raymond, while we were driving home after yesterday's game, said, "This is the best day of my life, Dad." "Why?" I asked. "We won the game."
He didn't get a hit, but he walked twice and scored twice. He did great in the field, which gave him his positive attitude. He felt he contributed. He was happy even though he got hurt in the field. A ground ball took a bad hop and hit him in the left ear. He went rolling on the ground in pain. I didn't want to overreact and started walking toward him, but the Spartan's manager came running out, grabbed Ray, and told him to take two deep breaths. I, too, as I was approaching my son, took two deep breaths. And here was my son, an hour later, who said, "This is the best day of my life, Dad."
Thursday, May 24, 1990 – Batting Practice
It was a great team effort last night. It was also a thriller. We were ahead 9-7 going into the bottom of the sixth with the Cardinals coming to bat. Their first batter walked. Their second batter hit a double. Men on second and third, no outs. The next batter hit a grounder to Noah Jackson at first base. He fielded it, touched first, one out, run scores. It was 9-8 with the tying run on third. The next batter couldn't have done better for us. He hit a zinging liner to Eric Strand at shortstop. Two outs, still a man on third. The Cardinals' next batter, their best hitter, stood in the batter's box. Ben Ogden was pitching. Ben's pitches are slow and easy to hit. If the batter connects, the game is tied. Ben, in three pitches, struck him out. It was an exhilarating win for us.
I gave the game ball to George Dicker, a little red-headed kid who got his first hit of the season. We've been spending more time on batting practice before each game, which I believe has helped George and the team. Now all we need is Conrad Wall and Jay Noble to get some confidence with their bats.
We're still in the running to make the playoffs.
Sunday, May 27, 1990 – Triple Play
We stunk. We lost 11-3 to the Anchors.
We pulled off a triple play, though. There were men on third and first. A ground ball was hit to Mike Buckle at first. He fielded the ball, touched first, and threw to Eric Strand covering second, who tagged the runner out. Eric then threw the ball to Patrick Alioto, our catcher, who tagged out the hesitant runner coming home from third.
Here's a quote I found on Fatherhood: "Don't be the man you wish you should be, be the father you wish you had had."
Wednesday, May 30, 1990 – A Happier Boy
It's been almost six months since I began this project of reworking a whole bunch of short stories. My stories are getting much better as I rework and revise them.
Our house seems to be doing much better without the television. Ray is happy, he says, because he isn't watching it anymore. He does creative things instead. Homework is fun for him, too. Joan and I have learned to let him do his own homework, whereas previous to meeting with the psychiatrist, we were doing a lot of his work for him. Joan and I thought we were helping him when we were actually hindering him. He seems like a much happier boy now.
The baseball season is almost over. We have two more games left to play.
Thursday, May 31, 1990 – Setting Himself Up for Failure
Jason Moore got mad at Ray yesterday. But then Jason did something very peculiar. He walked off the field to supposedly cool off after Ray accidentally stepped on his hand and they tussled a bit before I broke it up. When Jason, two years older than Ray, came back on the field, he was still fuming and went after Ray. That was going too far. I had to break them up again. Then Jason started swearing at me, yelling, furious, in a rage. He had gone off the deep end. He was letting out a whole season of frustration. Before that he had been seething inside all season, rarely talking, holding his anger in—but yesterday it came out in torrents. I just shut my mouth and let him swear at me and demean me and the team. His grandfather was there and saw his tirade. Actually, Jason shouldn't even be on the baseball field. He's extremely clumsy and uncoordinated. He was only setting himself up for failure by going out for baseball.
A couple of weeks ago, Jonathan Bronfman, another problem child, quit the team.
Sunday, June 3, 1990 – My Son Is Maturing
We won our third game out of four yesterday. We beat the Cubs 8-7, a team that's lost only two games this season. Our record is now 6 wins, 10 losses.
Ray was the MVP of the game yesterday. He got three hits and hit the winning run in. He had several chances on ground balls at second base and fielded every one of them cleanly.
Conrad Wall, like Ray earlier in the season, really got down on himself. The poor kid struck out for the 27th time in 32 at bats. All the coaches—his father Al Wall, Tom Buckle, Alan Blum, and Sylvester Jackson—are doing their best to encourage him. His father Al, our first base coach, the agony he must be going through seeing his son strike out so many times and seeing him almost self-destruct after each strike out. But Conrad can stand tall for his excellent defense as a catcher. I'll bet he threw out more runners stealing a base this season than most of the other catchers in the league.
Ray struck out yesterday and shook it off like rain off an umbrella. I was more proud of him for doing that than his getting three hits and playing errorless ball. He's starting to mature.
Thursday, June 7, 1990 – Just Missed Making the Playoffs
We won our fourth game out of five yesterday, except we just missed making the playoffs. We ended up with 10 wins and 11 losses.
We were on a roll, too. We started out on that roll a little too late, though. It was my fault for not practicing with the team an hour or two before each game. It took 12 games into the season before I realized that we should have batting practice before a game instead of meeting a half hour before a game and rushing through warm ups.
I told everyone on the team, and all the parents present, what the president of the Little League told coach Tom Buckle and me after yesterday's game. He said we were the best coaching staff he's seen this year because of the support and encouragement we gave the boys, and for giving them the competitive edge. He also said we were the hottest team in the league at the end of the season.
The season was like life. We had our ups and downs, good streaks and bad.
Wednesday, June 13, 1990 – A Title for My Quotation Book
I got a call yesterday from Dan Olmos, my editor at Hay House. Out of the 25 possible titles I sent them for my quotation book, they've chosen Words of Wellness: A Treasury of Quotations for Your Well-Being. I loved the title of what will be my first published book since I became a writer 21 years ago.
Thursday, June 14, 1990 – Framed Certificates
An awards dinner was held last night at the house of the former mayor of San Francisco and his wife, Joe and Kathleen Alioto. The kids loved swimming and jumping into the Alioto pool and eating pizza. The parents had a great time eating polenta, chicken cacciatore, and drinking champagne. It was a fun night to end the baseball season for the Mets. Everyone connected with the team received a framed certificate.
MVP Players – Patrick Alioto and Noah Jackson
MVP Infielders – Eric Strand and Ray Sutton
MVP Outfielders – Jay Noble and Winston Chu
MVP Defense – Conrad Wall
MVP Pitcher – Mike Buckle
MVP All-Around – Ben Ogden
MVP Striver – Jason Moore
Most Improved – George Dicker and Alex Podell
Coaches certificates – Sylvester Jackson, Al Wall, Tom Buckle, and my good friend Alan Blum
Mothers certificates – April Buckle and Pat Wall
Monday, August 6, 1990 – I Lost It
Exactly 45 years ago the city of Hiroshima was flattened by an atomic bomb. Today I heard 143,000 Japanese people either died or eventually died from the blast.
I went off like a bomb myself a couple of hours ago. Raymond, who has been sick with a bad cough all week, who was primed to go to Summer camp today, told me he had a headache, which meant he was going to stay home again. I burst out at him, "Get to bed! No TV today! From now on you get to bed at 9 instead of 11 from here on out, do you understand?!" Boy, was I mad and frustrated. Mad because every night he prolongs getting to bed. Frustrated because every day for a whole week I've been with him, seeing him cough, seeing him take so long to recuperate. The poor kid, he just stood there with tears in his eyes, not knowing what to say. I did a cruel thing to him. Cruel because I made him feel guilty. Cruel because I yelled at him. I knew I was doing the wrong thing to my son, my love, but I did it anyway. Why? I was letting out my frustration.
When I lose my temper it's not good for him or me. It will also be with him psychologically longer than anyone will ever know. What if he gets mad at his own child someday?
I've lost my temper so many times in my life. Why? Because I feel that I'm being taken advantage of. It's my way of fighting back.
In the past, when I was a high school teacher, I would lose my temper at times, and now I'm doing it as a father. Was I meant to be either? I don't know. I'm no longer a teacher, but I'm still a father and will always will be a father. When am I going to get it through my thick skull that losing my temper always hinders? I'm ruining myself and my son at the same time.
Monday, August 13, 1990 – Life was Becoming too Habitual, too Routine
We started out on our 10-day summer vacation today. We left home at 11 a.m. and arrived four hours and 200 miles later at our favorite campground in the Redwoods, Standish-Hickey. It's swimming in the river very close to our campsite that I like. It's the campers, mostly in tents, who are thoughtful of others. The campground is a good deal off the highway so you don't hear those huge lumber trucks rumbling by. Let's all stand up and cheer for Standish-Hickey.
We'll be here another night or two, a night at Panther Flat on the Smith River, and then on to Portland to visit our friends, Steve Carey and Leah Shearin.
It's good to get away from home. Life was becoming too habitual, too routine. I'd wake up, eat breakfast, go to my computer, eat lunch, go for a walk, come home, eat dinner with the family, wash the dishes, and read the paper. When I got in bed I'd read myself to sleep. I'd wake up in the middle of the night to go to the bathroom, fall asleep again, and then it was morning, to start the whole cycle over again.
There's very little creativity going on in my life. All I seem to do at the computer is copy something and revise it. I'm a revising machine. Maybe my friend Bob Ryan was right—that a computer is only good for revising. That's what I've been doing—revising my short stories for the past eight months.
Saturday, August 18, 1990 – No Plot or Characters in Mind
Here's something I found in an article yesterday about my favorite author, William Saroyan: "He began with no firm ideas as to what the stories would be about—no plots or characters in mind—but this didn't matter because his basic working method of choosing a starting point more or less at random and taking it from there—at speed—was already well established."
That's exactly how I write my first drafts—swiftly, no plot or characters in mind, a random starting point.
Here's another line that struck me in the article: "…he was to write that the only success that means anything to a writer happens when he becomes accepted as a writer."
I wrote something similar in my journal close to a year ago on August 30, 1989: "A writer has to be recognized to feel any sense of accomplishment."
Monday, August 20, 1990 – Pickleball
Today is my 50th birthday. How does it feel to be 50, a half century old?
It's OK, I guess. I have a loving wife, a great son, and a few good friends. We're staying with a couple of friends on this trip—at Steve Carey and Leah Shearin's house. A great couple who have been together for 16 years without getting married. We've been here since Thursday.
The highlight of this trip has been Pickleball—a game similar to tennis and ping-pong, played on a shortened tennis court. It's been the highlight for Raymond, too. He seems very good at the game since Steve introduced it to us three days ago. I love it, but I don't think my bad knee will ever hold up to the twists and turns, the stops and goes of it.
It's 11:30 p.m.—still my 50th birthday. Steve and Leah took us to El Amir, a Lebanese restaurant in Lake Oswego, for dinner. Joan and Steve shared the bill. Before dinner, Steve surprised me by giving me a pair of pickleball racquets and three plastic balls with holes in them, similar to wiffle balls. Ray and I can now play in San Francisco. It'll get both of us in good shape. The thing is, my right knee is swollen from today's session.
Thursday, August 23, 1990 – Campgrounds
On our way back from Oregon, we stayed at Panther Flat in Six Rivers National Forest. A couple of guys, at a campsite next to ours, wouldn't stop talking. And then on our last night on the road we camped at our favorite spot in Standish-Hickey. There was a couple next to our campsite who kept swearing at each other throughout the night. Oh, if only people were more considerate of their neighbors in campgrounds.
Thursday, August 30, 1990 – Distractions
Does anyone realize what a writer has to go through just to sit down and write? There are so many distractions.
There's getting up in the morning and doing 20 minutes of stretching exercises. There's showering and shaving. There's eating breakfast, which is the only time of the day to catch up on the news, so the radio is on and I'm reading the newspaper while eating. There's washing the breakfast dishes and sweeping the kitchen floor.
There's the living-room to put in order. There are phone calls to return. There's a package to wrap and take to the post office. There are letters to write. There is so much to read. My 9-year-old son just got back from the playground and needs lunch.
At 4:30 this afternoon, the Giants, who are in the pennant race, have a game I want to watch on TV. After the game, my Oregon teammate, Bruce Snyder, coach of the Cal Bears, will be featured on a radio talk show with Ralph Barbieri.
William Saroyan in his memoir Chance Meetings, says, "…for any man who puts in the required apprenticeship to become a professional writer must virtually take himself out of, and away from, all potential intrusions and instant distractions."
What I have listed above are distractions in my own home. Is it getting to the point where I need to find another place to write? Or is it disciplining myself to not do anything until I get my writing in for the day? Another possibility is the Zen approach of being into whatever I'm doing at the moment, to flow along with exercising, washing dishes, and cleaning up. In other words, to be into what I'm doing 100% without thinking of what I have to do next.
Which way is the best? Well, I'm not going to look for another place to write. That leaves two possibilities—to discipline myself not to do anything until I sit down to write or to do whatever I'm doing at the moment by being into it 100%.
I think the Zen approach is best, which is to flow along with what I'm doing and not fight life, because life consists of many mundane things like washing dishes or taking out the garbage.
Friday, August 31, 1990 – William Saroyan
William Saroyan would have been 82 today. I bought three of his books at Powell's Books when we were in Portland. I read Saroyan so I can get into the mood to write. I believe his greatest achievement was to influence other writers to write.
Tuesday, September 11, 1990 – My Cousin Vic
I'm in hot, smoggy L.A.—my hometown. I'm staying with my cousin Vic at his house in the Hollywood hills. I see Vic in the things around his house. He has so many knickknacks, or tchotchkes. His life is made of tchotchkes. What I mean to say is, people give Vic knickknacks that are strewn all around his two-story house. He doesn't get to enjoy them because there are so many of them.
I also see in Vic like most of us who start things but never finish them. In other words, Vic is a dilettante, a dabbler. For instance, his bicycling gear. He only used it four or five times and that was that. We're all like this—starting something new like scuba diving, bicycling, skiing, and dropping it soon afterward.
It's another scorcher in L.A. today. After I finish this journal entry I'm going to jump into the pool to get refreshed.
Roaming around Vic's house I see tons of magazines and books he's never read. He doesn't have enough time to get involved in anything outside of his job of being a commercial agent, one who gets his clients on radio or TV commercials. The man has so many mementoes, along with his knickknacks, that his main focus is to stay away from his own house. This is just speculation on my part. But what I see is a man focused on his job who doesn't have time to do anything with the upkeep of his house, such as having a wife, caring for his garden, getting organized, and just taking in what this house has to offer.
I am not criticizing my cousin at all. I'm just saying I'd live a different life regarding the house he lives in.
Wednesday, September 12, 1990 – Parts of Plays, War Fever, Our House on Fairfax Avenue
I just laid low today because of the heat, except for this evening, when my brother Dave, his wife Bertha, my brothers Bob and Maurice, along with my cousin Vic and I had dinner on Ventura Boulevard near Laurel Canyon. After dinner we went to see Bob and five other actors perform parts of different plays at Francis Lederer's acting school. Bob also did a soliloquy from Hamlet—"The play's the thing…"—that I loved. Everyone was outstanding. They mainly performed parts of plays where men and women were in poor relationships.
I was thinking today about this country and war. It seems that most of this country is losing its patience. People have had it with Iraq's dictator, Saddam Hussein. The man has everyone against him. Most of our country can't wait to whip his ass. There's a war hysteria going on in this country. The type of thinking that's going on is, "We can get it over with fast in Kuwait. None of our soldiers will die. No civilians will die. We have it made." The thing is, if we go to war we'll have the whole Arab world against us. We can't win with war. We need more patience to see if the embargo against Iraq works.
I went to my parents' house on Fairfax and Hollywood Boulevard. It was empty, painted, polished, and up for sale. The asking price is $600,000. I went through every room at least twice. A tidal wave of memories came rushing in on me. We don't know how good we had it as a family when we were all together at that house.
I visited Mom and Dad's gravesites (next to each other) at Mt. Sinai Memorial Cemetery on Forest Lawn Avenue. I somehow found their gravestones without any trouble. I just sat on the grass and thought of them.
Thursday, September 13, 1990 – Prejudice
Joan called last night around 6:15 p.m. She was mad that I hadn't called her. She deserves to be mad. I didn't call because I just wanted to relax in this hot, smoggy weather. I was going to call her about the same time she called me. I hadn't talked to her since I left San Francisco Monday morning. She was absolutely right in being mad at me.
I went with Vic today to see his mother, my Aunt Sarah. We picked her up and drove her to the hospital. Both her legs were amputated below the knee. She's learning how to walk with a prosthesis on each leg. Lu, a black woman, is teaching her and inspiring her, which brings to mind why anyone is prejudice against any race, creed, or religion when every race, creed, and religion works in a hospital helping patients of every race, creed, and religion. Blanket prejudice is insane. Insane!
My Aunt Sarah's spirits are high. She's eager to learn to walk so she can be independent again.
Monday, October 22, 1990 – Baseball Haiku and World Series Champions
A baseball haiku:
Baseball on grass field
Is better than baseball on
Astro turf, of course.
The Cincinnati Reds won the World Series against the Oakland A's. It just goes to show that no one can predict the future. The A's were heavy favorites to win the Series in four or five games, but the Reds turned the tables on the prognosticators and swept the A's in four games.
Wednesday, October 31, 1990 – A Novel vs. Short Stories
I'm nearing the end of a project I began in January—the revising of all my short stories. Thank goodness I was blessed with stick-to-itiveness. I'm the slow plodding type, but at least I finish what I set out to do. I thought this project would end in a month or two, but here I am in the tenth month and I still have three more stories to revise out of a total of 26.
I'm sticking with short stories from here on out. A novel takes up too much time. I was browsing through a biography of Raymond Carver last night at City Lights Bookstore in North Beach. I read something to the effect that Carver stuck to short stories because he revised quite a bit. He would go over a story 30 or 40 times till he thought he had it down pat. I'm the same way. It would take me years to write a novel because I revise so much. Actually, it took me a total of six years to write two unpublished novels of mine—A Class of Leaders and Highway Sailor.
Sunday, November 4, 1990 – The Writing Life
It takes a lot of thought to write fiction. A fiction writer has to think of everything, such as devising a plot and developing his characters. The story must be interesting. Fiction writing is not easy. It needs the complete attention of the writer. If a story doesn't keep a reader's interest, there's no use in writing fiction, or, for that matter, nonfiction.
Writing—it's heaven, it's hell. Heaven, because it's creating something new and unique. Hell, if one writes for a living and can't make a living out of it. In other words, if a writer is not recognized as a writer, what's the use of being a writer?
Sunday, November 11, 1990 – War
It's late Sunday night, almost 11 p.m. on 11/11/90, Veterans Day. Veterans Day was originally named Armistice Day, to commemorate the end of World War I, the Great War, on 11/11/18 at 11:00 p.m.
The Persian Gulf Crisis debate goes on. Shall the U.S. enter a war with Iraq? President George H.W. Bush wants to kick Iraq out of Kuwait. I say no, no, no. War is not the answer. We must settle differences diplomatically.
Monday, November 12, 1990 – The Golden Mean of Life
I'm devoid of any get-up-and-go. Could it be that I'm tired of revising old stories and not creating new ones? What is causing this lack of energy? I have a feeling that it's time to create new stories and stay away from the old except to send those stories to magazines.
I am alone most of the time. Joan thinks I need more stimulation. She has a certain instinct that I should listen to. A writer needs stimulation—he needs other people to talk to. He also needs to be alone. It's hard for a writer to hit that Golden Mean in life.
Sunday, November 25, 1990 – Tiredness and Rain
I've been very lazy of late. I can't get into the rhythm of writing. All I seem to be doing is getting up late, eating all day, watching football and basketball on TV (the 49ers lost to the Rams today), and that's been my life for the last week or so. Maybe it's because of this sore throat I have that won't go away.
I've been feeling this way since I finished revising all my short stories. Being focused on the same project for the past eleven months, maybe that's the reason why I'm tired and don't want to use my brain. Maybe my mind and body need a rest. At least I've been sending out my stories almost every day.
It rained for the first time in a long time today. The rain was the downfall of the 49ers. It caused six turnovers for them. Screw the 49ers, we need rain.
Monday, December 3, 1990 – Iraq and Query Letter
Will there be war with Iraq? Ever since August the country has been debating whether Iraq should be punished for invading Kuwait. There is presently an embargo on all goods going to Iraq. The question is, Is the embargo working?
I'm in the process of writing a query letter to send to publishers and agents for my short story collection, The Immortal Mouth and Other Stories. It has to be positive. It has to let them know who I am, what I've published, and what kind of writer I am.
A query letter is so important. It has to grab the attention of an editor or agent. It has to want to make them write back and say, "Yes, send me your novel or story collection."
It took me a few weeks to write a query for Words of Wellness, and because of the time I put into it, I hooked a publisher.
Wednesday, December 5, 1990 – Mother-In-Law
I just finished talking with Joan's mother on the phone. Every once in a while she calls to harp on me to get a job, and I tell her that I already have a job. "How could I have gotten Words of Wellness published if I had worked at another job? How could I have finished revising and writing a collection of twenty-six short stories if I'd gone out and found a job?"
"You could write after you come home from work," she said.
I didn't even answer that stupid remark of hers.
"Well," she said, "what are you going to do when your money is depleted?"
"I have more money now than when I quit my costume jewelry sales job two years ago."
"What about Joan?" she said. "She works so hard."
"I keep telling her not to work so hard. It's her choice. People keep calling her to tell stories to children and she accepts the job. It's up to her to accept or reject an offer, it's not up to me to tell her what to do. That's Joan, she loves her work."
"But you need to build for the future."
"What do you think I do for six, seven, or eight hours a day? I'm always working on my writing, always trying to improve, always trying to sell a story or book. Joan doesn't pay the bills, we both share in that responsibility."
Little does my mother-in-law know that we don't need what she needs. We don't need an everyday maid, cook, and secretary. We don't need to buy expensive clothes or a new car every year. We don't need symphony, ballet, or opera tickets. We live a very simple life. Material things are not my bag. Little does she know that a daily walk, or going out and throwing the ball with my son, or pitching batting practice to him, or coaching a Little League team are my greatest pleasures.
How can I get it through that $45 million mind of hers (yes, that's how much she's worth) to leave me and my family alone. I'm trying to tell her to put her power trips on her friends or whoever else wants to kiss her ass, but don't put your power trip on me, my wife, or our two sons.
Tuesday, December 11, 1990 – Unfinished Short Story
The sloshing of my shoes made the pit bull rush out of his dog house. He ran to the fence, growling, barking, wanting to eat through the fence so he could get to me.
I'm a process server. I have to deliver a court summons to its owner. I rang the bell of the front door three times in three days, but no one came to the door. I knew someone was home all three times. And the person I wanted to serve knew why I was there.
As soon as the owner heard his pit bull barking, he opened his back door.
"Get outta here, fellow."
"Could you come here for a second," I said, the rain pouring down hard on me.
"I told you to git."
I had to think fast. I needed him to come to the fence so I could ask his name and upon hearing that, I'd hand him the summons.
Why did I take this job. It's demeaning to have to hand a court summons to someone. Most people I give them to would shoot me if they had a gun on them.
"Sir, I need to talk to you," I said.
"Why you sneakin' 'round here?"
"It's very important. It'll only take a minute."
"You think I'm gonna fall for your sneaky tricks? I know what you're up to."
I picked up a stone and threw it at his pit bull, enraging both the dog and his owner.
"I'm gonna let my dog sic you if you ain't outta of here right now."
I didn't say a word. I just stood there in the rain, my arms crossed at my chest and defiantly waited to see if the man was bluffing or not.
He wasn't bluffing. He started for the fence.
I ran for my life.
The next day the sky was pure blue. The air was fresh and invigorating. I went to a costume shop and rented a mailman's uniform.
I'm not getting anywhere with this story for a magazine contest. I need to think it over, except if I think it over I won't get to it. It's a ploy on my part to delay, to procrastinate, to not finish the story. The deadline is December 21.
Wednesday, December 26, 1990 – Rejections and New Writing Project
I didn't finish the "process server" story. I've been getting rejected left and right for sending my short stories to different magazines and for querying agents and editors about my story collection, The Immortal Mouth and Other Stories.
For the past three weeks I've been working on a very long poem that's 100% pure American.
Made in America
Aretha Franklin. Ben Franklin. Scott Joplin. Irving Berlin. Huck Finn. Sam Ervin. Batman and Robin.
Superman. George M. Cohan. William Saroyan. Death of a Salesman.
Shopping Malls. Niagara Falls.
The Golden Gate. Watergate.
The Twilight Zone. Sylvester Stallone. I.F. Stone. Al Capone.
Alcatraz. Jazz.
Miles Davis. Bette Davis. Las Vegas.
TGIF. Mutt and Jeff. Chief Joseph.
Wounded Knee. Grand Ole Opry. Paul Harvey. Silicon Valley. The Life of Riley. Eddie Murphy. Bill Cosby.
Dr. J. Sugar Ray. The Great White Way. A-OK. LBJ. RFK. JFK.
Lee Harvey Oswald. Art Buchwald.
Studs Terkel. Norman Rockwell. Alexander Graham Bell.
Norman Vincent Peal. Let's Make a Deal. Eugene O'Neill.
Garrison Keillor. The Mormon Tabernacle Choir. Mt. Rushmore.
George Washington. Mr. Smith Goes to Washington. Willie Sutton. The Charleston. Duke Ellington.
Harlem. P.T. Barnum.
The World Series. The Roarin' Twenties. Grauman's Chinese.
Thomas Edison. Magic Johnson. James Madison. Woodrow Wilson. Al Jolson. Rachel Carson. Emily Dickinson. Ralph Waldo Emerson.
Henry David Thoreau. Edgar Allan Poe. The Lone Ranger and Tonto. GI Joe. Edward R. Murrow. Clarence Darrow. Rocky Marciano. Abbott and Costello.
Laurel and Hardy. The Boston Tea Party. Truman Capote. Jack Benny.
W.C. Fields. Brooke Shields.
Barbie and Ken. Southern fried chicken. H.L. Mencken. John Wooden. Woody Allen. Burns and Allen. Earl Warren. John Glenn. "You can't go home again."
Our Town. Motown.
Chevrolet. Hemingway. "Hit the hay." The Atchison, Topeka, and the Santa Fe. Doris Day. Daisy Mae. Billie Holiday. Kunta Kinte.
George Washington Carver. Henry Steele Commager. Erle Stanley Gardner. Dorothy Parker. Stephen Foster. Stevie Wonder. Helen Keller. Bob Feller.
Willie Mays. The Oakland A's.
"Speak softly and carry a big stick." Lou Gehrig. The Mayo Clinic. Barbara Stanwyck. Jackson Pollock. Beatnik.
Kerouac. "Hit the road, Jack." Maurice Sendak. Cadillac. Big Mac.
General Douglas MacArthur. Pete Seeger. Rhett Butler. Willie Shoemaker. The Godfather. Luke Skywalker.
Mr. Rogers' Neighborhood. Hollywood.
A Star is Born. Nathaniel Hawthorne. Desert Storm.
General George Patton. Thomas Hart Benton. Buster Keaton. John Huston.
Spencer Tracy. Dick Tracy. Houdini. O. Henry. West Side Story.
Leonard Bernstein. Jimmy Dean. Billie Jean King. Martin Luther King. "I have a dream." J.R. Ewing. Washington Irving. The Empire State Building. Rogers and Hammerstein. Thanksgiving.
Julia Child. Call of the Wild.
Jack London. Neil Simon. Paul Simon. Hank Aaron. Damon Runyon. The Grand Canyon. Abe Lincoln.
The Gettysburg Address. Cesar Chavez. Porgy and Bess.
The Gershwins. The Last of the Mohicans. Jesse Owens.
Michael Jordan. Walt Whitman. Abbie Hoffman. Harriet Tubman. William Tecumseh Sherman. Pee Wee Herman. Ethel Merman. Paul Newman. Alfred E. Neuman. Harry Truman.
"The buck stops here." Paul Revere.
Tom Mix. Fort Dix.
Uncle Sam. "Wham, bam, thank you, ma'am." Hoover Dam.
John Adams. Ansel Adams.
Polaroid. Harold Lloyd.
Fanny Brice. Leontyne Price.
Jackie Robinson. Paul Robeson.
Mark Twain. Stephen Crane. Mickey Spillane. Singin' in the Rain. Citizen Kane. John Wayne. "Come back, Shane." Tom Paine.
Common Sense. The Declaration of Independence.
Thomas Jefferson. Andrew Jackson. Mahalia Jackson. Bo Jackson. Bart Simpson. O.J. Simpson.
Bronko Nagurski. Susan B. Anthony. Liberace. Bugs Bunny.
Mickey Mouse. The White House.
"Read my lips." Hominy grits. Mark Spitz. ZaSu Pitts.
Paul Muni. James Cagney. William F. Buckley. Dale Carnegie. Lucy and Desi. Vince Lombardi. Gene Kelly.
Fred Astaire. Metro-Goldwyn-Mayer.
Clark Gable. Shirley Temple.
Judy Garland. Aaron Copland. Disneyland.
Ernie Kovacs. Sandy Koufax. "Peanuts, Popcorn, and Cracker Jacks."
Wrigley Field. Desert Shield.
Ulysses S. Grant. Oscar Levant.
C. Everett Koop. Hoola Hoop. Betty Boop. Campbell's Soup.
Andy Warhol. Bogart and Bacall. Geritol. Carnegie Hall. Monday Night Football.
Red Grange. "Spare change."
Johnny Cash. M.A.S.H.
Chuck Yeager. Tammy Faye Bakker. James Thurber. Arnold Palmer. William Faulkner.
John Steinbeck. Gregory Peck. Star Trek.
Neil Armstrong. Louis Armstrong. Ping-Pong. King Kong.
The Bronx Zoo. Catch-22. Maya Angelou. Madison Avenue.
"They sold me a bill of goods." The Redwoods.
The Mississippi. Yosemite. The Statue of Liberty. E.T. AT&T. Jack Dempsey. Gene Tunney. Muhammad Ali.
Friday Night Fights. The Bill of Rights.
William O. Douglas. Frederick Douglass. Kirk Douglas. Pocahontas. Johnny Mathis.
Name That Tune. High Noon. Daniel Boone.
Lewis and Clark. Fenway Park.
Ted Williams. Tennessee Williams.
Marlon Brando. The Kingston Trio. Harriet Beecher Stowe. Mike Royko. The Ed Sullivan Show. Marilyn Monroe and Joe DiMaggio.
Stan "The Man" Musial. Mickey Mantle. Casey Stengel.
Yogi Berra. Frank Sinatra. Henry Fonda. Miss America. Madonna. Joe Montana. Frank Zappa. John Philip Sousa. Coca-Cola. Pizza.
Cheers. Sears.
Woolworth. Astro-turf.
Brer Rabbit. Ozzie and Harriet. Tony Bennett. Davy Crockett. The U.S. Senate.
"Take a hike." The Golden Spike. "I like Ike."
Franklin and Eleanor Roosevelt. Sun Belt. Bible Belt.
Billy Graham. Martha Graham. Yankee Stadium.
Babe Ruth. John Wilkes Booth.
One Flew Over the Cuckoo's Nest. The Reader's Digest.
Dun and Bradstreet. Sesame Street. Main Street. Wall Street.
Dow Jones. Indiana Jones. Quincy Jones. Spike Jones.
The Fourth of July. Popeye.
Pete Rose. Buffaloes.
Sitting Bull. Evel Knievel. Scrabble. Hoagy Carmichael. Old Faithful.
Gunsmoke. "Holy smoke!" Bob Hope.
Bing Crosby. Jimmy Durante. Tommy Dorsey. Roller Derby. Monopoly. Spike Lee. Elvis Presley.
Rock 'n' Roll. Dust Bowl. Rose Bowl. Super Bowl. Chuck Noll. The Gallup Poll. Nat King Cole.
Bo Diddley. Lassie. Dagwood and Blondie. Hershey. Knute Rockne. Pepsi.
Hamburger and fries. Levi's.
The 49ers. The Wright Brothers. The Marx Brothers. The Harlem Globetrotters. The Rockefellers. Will Rogers. Buck Rogers.
Steven Spielberg. Carl Sandburg. Allen Ginsberg. Charles Lindbergh.
The St. Louis Blues. Rhythm 'n' Blues.
Henry Miller. Bette Midler. Gary Cooper. Ralph Nader. Roy Rogers and Trigger. Jimmy Carter. Bruce Jenner. Burt Lancaster.
Jim Thorpe. Robert Mapplethorpe.
Saturday Night Live. High Five.
Kareem Abdul Jabbar. Jack Parr.
Bantam Ben Hogan. Hulk Hogan.
Joe Louis. John L. Lewis.
Walter Cronkite. Vanna White. E.B. White. Dudley Do-Right. Richard Wright. Frank Lloyd Wright.
Howard Hughes. Langston Hughes.
"This land is my land." Custer's Last Stand. Barbra Streisand. Ellis Island. Coney Island.
Nathan's Hotdog. Smog.
Robert Frost. Betsy Ross.
Francis Scott Key. Yankee Doodle Dandy. Robert E. Lee. Ray Bradbury.
e.e. cummings. "It ain't over till the fat lady sings."
Kate Smith.
Epilogue
In 1991 I again coached my son's Little League team with a whole new set of ballplayers, including one girl. We won the city championship. My son Ray improved tenfold. He was the leading hitter on the team.
My health quotation book,Words of Wellness: A Treasury of Quotations for Well-Being, was released in the spring of 1991 and sold very well.
I was hoping there'd be no war with Iraq, but there was. Operation Desert Storm, under the command of General Norman Schwarzkopf, lasted 43 days, from January 17 to February 28, 1991, clearing all Iraqi troops out of Kuwait. President George H.W. Bush didn't invade Iraq or seek to overthrow Saddam Hussein's regime. However, unlike his father, President George W. Bush, in early 2003, gave orders to invade Iraq under the pretense that Saddam Hussein had weapons of mass destruction. (Our country was very sensitive of terrorists after the 9/11 suicide airline attacks in 2001.) Although Saddam's government was easily defeated, the American-backed Iraqi government and the Iraqi people had to endure turmoil against insurgent groups, such as ISIS or the Islamic State, until 2017.